FUCKED UP "Year of the Dragon" 12" w/ bonus 7" flexi disc // cdep
Sonically and conceptually devouring in ways few bands can emulate, FUCKED UP fuse all the prime tenets of rock, punk, metal and psychedia into a comprehensive and imposing opus of unyielding enormity. Side A features the title track, an eighteen minute epic anthem centered on dreams, expectations, compromise and hypocrisy. Side B is rounded out by two classic Canadian punk covers from Cardboard Brains and The Ugly. Bonus flexi disc includes a 6 minute edit of the title track and is included with the entire first press. Pressed onto white vinyl.
*instant digital download provided with purchase
FINAL CONFLICT "Ashes to Ashes" LP + 2xCD + t-shirt
Los Angeles, California's
FINAL CONFLICT
were highly influenced by British punk bands like
DISCHARGE
and o
ne of th
e first bands to blend hardcore'
s simplistic and manic sound and heavy metal's musiciansh
ip with any degree of success. T
hese spiky haired
punks
created a sound that would go on to b
e emulated by hundreds of bands,
none ever reaching the level of raw power that this LP contained
. Originally issued on Pushead's Pusmort Records in 1987 then later issued via Relapse Records in 1994, this stellar album now finds a new home at Tankcrimes. The original tapes found and baked, restored and transfered by Ulysses Noriega at The Laundry Room Recording Studio in Los Angeles, CA and remastered by Jack Control at Enormous Door Studios in Austin, Texas.
Includes 24 page booklet with old photos, flyers and interviews plus lyrics and fold out poster.
2xCD format includes the 15 track "Nineteen Eighty-Five Demo" on a bonus disc.
Both formats available as a discounted bundle with "WAR?" t-shirt (printed with discharge ink).
LP format available in Splatter (mail order exclusive), Red or traditional Black vinyl.
*instant digital download provided with purchase
THE SHRINE "Bless Off" cassette
Venice Beach's THE SHRINE combine the hooks and presence of 70's rock and glam with 80's hardcore / skate punk enegry and attitude. They do it right and I love them for that!
Cassette format available bundled with new "Bless Off" woven patch.
TANKCRIMES BRAINSQUEEZE 2 -

April 18-20 2014

- Oakland, CA
enjoy the commercial here...
Friday 4/18

- Oakland Metro - all ages, bar w/ ID
Ghoul

Cannabis Corpse
Final Conflict
Iron Reagan
BAT
Fucktard



Saturday 4/19

- Oakland Metro - all ages, bar w/ ID
Municipal Waste
Negative Approach
Fucked Up
Impaled
The Shrine
Kicker
Conquest for Death



Sunday 4/20

- Eli's Mile High Club - 21+
Brainoil
Deny the Cross
Connoisseur
+ wild and unpredictable guests
BBQ + Andrei Bouzikov art showing

Weekend Super Pass (includes 2 sided, 2 color t-shirt and 22x34 2 color screen printed poster) -
and

Individual advance tickets
*weekend super pass only advance ticket available for 4/20 gig.

Tell your friends!
FREE DOWNLOAD COMP FOR ALL!!! Featuring every band performing and a couple bonus tracks as well.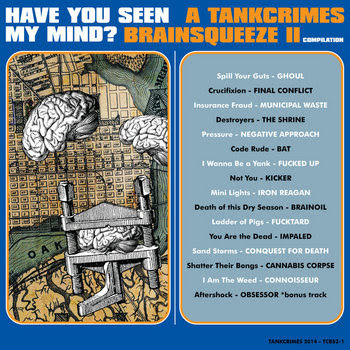 REPRESSES!!! You want it, you got it.
GHOUL "Splatterthrash" LP
CONQUEST FOR DEATH "Many Nations, One Underground" LP
CANNABIS CORPSE / GHOUL "Splatterhash" - 2nd press!
EXHUMED / IRON REAGAN 12" - 2nd press
GHOUL "Maniaxe" LP - 2nd press!
MUNICIPAL WASTE / TOXIC HOLOCAUST "Toxic Waste" 12" - 6th press!

Immediate digital download with all purchases! GO!
These came out KILLER! I prefer woven over embroidered, much better detail. Check it out...
plus more from CANNABIS CORPSE, BAT and THE SHRINE.
We've restocked t-shirts, patches and cassettes for BAT and added a bundle for CONQUEST FOR DEATH.
Thanks for tuning in - tell a friend about Tankcrimes today!
GHOUL "Hang Ten" 10" - Record Store Day + Brainsqueeze exclusive
NIGHT BIRDS "The Other Side of Darkness" + "Born to Die in Suburbia" cassettes
** shit tons of tour dates below !!
WEBSTORE - buy shit
INSTAGRAM - ill pix
YOUTUBE CHANNEL - freshly updated with full album streams
FACEBARF - like me
TWITTER - needs a brethalizer sometimes
TUMBLR - you just do nothing
BANDCAMP - listen + FREE + pay what you want downloads
WEB-SYTE - things
BRAINSQUEEZE TICKETS - Brainsqueeze tickets
=======================================================
=======================================================
Weapons Of Mosh Destruction Tour II w/ Iron Reagan, Occultist:


4/09/2014

Club Red – Tempe, AZ


4/10/2014

Soda Bar – San Diego, CA


4/11/2014

Constellation Room – Santa Ana, CA


4/12/2014

Rock City – Camarillo CA


4/13/2014

The Roxy – Los Angeles, CA


4/14/2014

Midtown Barfly – Sacramento, CA


4/15/2014

Branx – Portland, OR


4/18/2014

Tankcrimes Brainsqueeze Fest – Oakland, CA
4/02/2014

Strange Matter – Richmond VA


4/04/2014

Macrock Festival – Harrisonburg, VA


4/05/2014

The End – Nashville, TN


4/06/2014

Vino's – Little Rock, AR
Weapons Of Mosh Destruction Tour II w/ Ghoul, Occultist:


4/09/2014

Club Red – Tempe, AZ


4/10/2014

Soda Bar – San Diego, CA


4/11/2014

Constellation Room – Santa Ana, CA


4/12/2014

Rock City – Camarillo CA


4/13/2014

The Roxy – Los Angeles, CA


4/14/2014

Midtown Barfly – Sacramento, CA


4/15/2014

Branx – Portland, OR


4/18/2014

Tankcrimes Brainsqueeze Fest – Oakland, CA

w/ Occultist:


4/22/2014

Gino's – Salt Lake City, UT


4/23/2014

Moe's – Denver, CO


4/24/2014

Replay Lounge – Lawrence, KS


4/25/2014

Fubar – St. Louis, MO


4/26/2014

Three Floyd's Brewery [Dark Lord Day] – Munster, IN


4/27/2014

Cobra Lounge – Chicago, IL


4/28/2014

Frankie's – Toledo, OH


4/29/2014

Ace of Cups – Columbus, OH


4/30/2014

Smiling Moose – Pittsburgh, PA



4/19/2014

Oakland Metro @ Brainsqueeze Fest II – Oakland, CA
4/27/2014

Lawnya Vawnya - St. John's, NL
6/06/2014

Bowery Ballroom - New York, NY Record Release Show


6/08/2014

Field Trip Festival - Toronto, ON
6/13/2014

B Sides Festival - Lucern, CH


6/14/2014

VK, Brussels, Belgium


6/15/2014

Gorilla – Manchester, UK


6/16/2014

The Cluny, Newcastle, UK


6/17/2014

Belgrave – Leeds, UK


6/18/2014

Koko – London, UK


6/19/2014

Point Ephemere, Paris, FR


6/20/2014

Hurricane Festival – Scheessel, DE


6/21/2014

Southside Festival – Neuhausen Ob Eck, DE


6/22/2014

Best Kept Secret Festival – Hilvarenbeek, NL
4/14 - Philidelphia, PA at Kung Fu Necktie
4/15 - Richmond, VA at Strange Matter
4/16 - Baltimore, MD at The Metro Gallery
4/18 - Tankcrimes Brainsqueeze
4/18 - Tankcrimes Brainsqueeze
5/23 - MARYLAND DEATH FEST
5/24 - Punk Rock Bowling after show w/ Gang Green *SOLD OUT
6/14 - Santa Ana @ The Observatory w/ 1984 (Crucifix)
3/27 - Ventura, CA @ The Garage w/ Lower Class Brats
3/28 - Santa Ana, CA @ The Observatory w/ Lower Class Brats, JFA
3/29 - Long Beach, CA @ Black Light District
VICTIMS5/24 - MARYLAND DEATH FEST
TOXIC HOLOCAUSTwith Skeletonwitch
NEW ZEALAND – April, 2014


Wednesday

16th: Auckland @ The Kings Arms


Thursday

17th: Wellington @ Bodega Bar
AUSTRALIA -April, 2014


Friday

18th: Melbourne @ The Reverence Hotel (Footscray)


Saturday

19th: Adelaide @ Fowlers Live


Sunday

20th: Perth @ The Rosemont Hotel
Tuesday 22nd: Canberra @ The Basement


Thursday

24th: Brisbane @ The Hi Fi


Friday

25th: Newcastle @ Newcastle Leagues Club


Saturday

26th: Sydney @ The Hi Fi


Sunday

27th: Melbourne @ Hi Fi
THE SHRINE
with Red Fang and Lord Dying
25.03.14: Germany Hamburg Knust


26.03.14

: Sweden Gothenburg Truckstop Alaska


27.03.14

: Norway Oslo John Dee
28.03.14

: Sweden Stockholm Debaser Strand


29.03.14

: Denmark Copenhagen Pumpehuset


30.03.14

: Germany Berlin Lido


31.03.14

: Poland Warsaw Basen
01.04.14: Austria Wien Arena
03.04.14: Germany München Backstage


04.04.14

: Germany Leipzig Taeubchenthal


05.04.14

: Germany Stuttgart LKA


06.04.14

: Germany Wiesbaden Schlachthof
4/19 - Oakland, CA @ Tankcrimes Brainsqueeze
5/6 - Vancouver BC @ The Owl
5/7 - Seattle, WA @ Studio Seven
5/8 - Portland, OR @ Wonder Ballroom
5/9 - SF, CA @ The Chapel
5/10 - Santa Cruz, CA
5/11 - Santa Ana @ The Observatory w/ St.Vitus, Pentagram
5/12 - Los Angeles @ The Roxy
5/21 - Sacramento, CA @ Blue Lamp w/ The Briefs
5/22 - DAY SHOW SF, CA @ Fat Wreck Warehouse
5/22 - NIGHT SHOW SF, CA @ Thee Parkside w/ The Briefs
5/23 - Santa Ana, CA @ The Observatory w/ Adicts, Leftover Crack
5/24 - PUNK ROCK BOWLING Las Vegas w/ All - SOLD OUT
5/25 - Los Angeles, CA @ East 7th st Warehouse